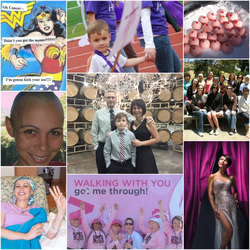 8 years ago I thought my life was over when I heard the dreaded words "You have breast cancer." Through Grace, love and support (and a good dose of sheer luck given how many dear friends earned their wings too early), I am blessed to still get to live and find my way from fighting and surviving to thriving. With a little help from FB, I was able to reflect back on my journey and find a few pics that capture the silver linings:
1. So fortunate to find the Young Survival Coalition​ early in my Research Ninja neurosis - this meme was created by a YSC Survivor Sistah and continues to inspire me to MoXie Up & on;
2. No one really lets you know how painful losing your hair to chemo is (feels like a hundred too tight ponytails)-- felt super powerful to channel my inner GI Jane and shave the rest off instead of continuing to wake up and find it all over my pillow.
3. Third round of chemo -- One Stick Vik-God Love Her! I started to get a bit cocky...well, Universe checked me with a bit of toilet hugging: having to ask my neighbors to rush my bald, pajama wearing self to the Doctor; extra neupogen shots and bronchitis. Kept me humble and as much as most of the pics I have from the heat of battle show me smiling, there were plenty physically and emotional exhausting moments as well as funny ones and times when I felt like I was a big pot of emotional gumbo (which btw reminds me of my Grandma and I laughing our butts off when we got lost trying to find Drago's for mine and the TaTa's last support after we got checked in to the ACS Hope Lodge in New Orleans -- ah-mazing how some charbroiled oysters, cold Barq's in a bottle and time with Grandma can take one's mind off major "nip & tuck" scheduled with the angels at the New Orleans Center for Restorative Breast Surgery ;)
4. Aiden...sweet Aiden. At my first onc appointment, Dr. Hausdorff asked me about my goals in terms of treatment. Without a doubt: get to help Aiden grow up into a wonderful young man by all means necessary. Initially, I didn't even want Aiden to hear the word cancer. When it was clear I would be losing my hair to chemo and need surgeries, i realized I needed, wanted to find words and ways to help him make sense of what was happening as much as I did. This picture captures us taking our very first Survivor Lap at Relay for Life.
5. TaTa Cakes -- this picture symbolizes so many aspect of my cancer: loss of modesty after SO many "viewings" at med appts...like a never ending Mardi Gras parade ;) -- perhaps the most special silver lining: fellah Survivor Sistahs, especially the initial Ta Ta Warriors that I got to meet through CHOMP's Breast Cancer Survivor Group. My irreverent and most thoughtful Marge, my Tickled Pink Poet Molly (R.I.P.), my Zesty Jeanne, sweet Jo...my sweet angel Nurse Joy...meeting Ratna & Nicole.
6. Ironic how dying gets you to living. After finishing chemo, surgeries, got to raise over $20,000 with some of my fave Ta Ta Warriors & Bestie Rebecca and experience the 3 Day in San Francisco. Never knew how motivating cheese sticks and water could be until I set out to walk 60 miles over 3 days.
7. The Survivor Sisterhood Ratna, Nicole & I were able to foster via Monarch C.A.R.E.S. was so healing, empowering. Five of our Monarchs - Alyssa, Sonya, Darcie, Karen, Suzana earned their wings too early - all lived so fully and continue to inspire me to not waste a moment.
8. What a fabulous experience getting to participate in Love Twelve with Survivor Sistah Tracy Birdsell. Wrote about this in
prior post.
Perhaps the greatest silver lining + blessing I gained since that dreadful Dx is the simple clarity of what matters most: loving my family, living a purposeful life abundantly.
---