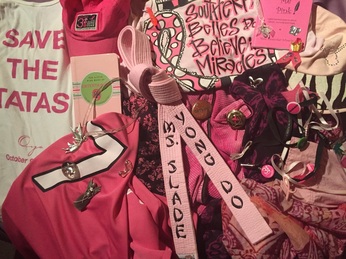 Pinktober is here again...surfacing my simmering love-hate, hypocritical relationship with pink.
Why would this breast cancer survivor not LOVE pink? Main reasons:
1. MISGUIDED FEMINISM: My misguided younger self made
sure my closet was free of it - I
disdainfully dismissed the color as a sign of being being "too girly", weak. Kinda get a chuckle thinking back on how I thought I was being such a bad-ass Feminist by doing so. Sometimes I miss that naive, idealism ;) but wouldn't trade the greater understanding and confidence I have now on how better to take a stand and bring about more equity and positive change ;)
2. DEFYING CANCER: Once I received my cancer Dx, it seemed everywhere i turned there was a pink ribbon on every other product proclaiming Breast Cancer Awareness -- believe you me, I was darn well aware that breast cancer existed...it was freakin' inside of me trying to kill me. I swore the operating lights during my first surgery were pink -- was so convinced that my Nurse Angel Joy double checked. For so long, all those pink ribbons, all that pink, were painful reminders of my mortality, of loss -- loss of hair, loss of breasts, loss of ovaries, loss of fertility, loss of brain power...the potential loss of my life and not getting to Mother my son to adulthood.
3. PINKWASHING:
Breast Cancer Action coined the term "pinkwasher" as part of the
Think Before You Pink® campaign
. Pinkwashing and pinkwasher are interchangeable in my cancer dictionary, essentially meaning:
Claiming to care about breast cancer by promoting a pink ribbon product but with greater benefit going to a company or organization rather than to Survivors for finding a Cure; and/or
at the same time producing, manufacturing and/or selling products that are linked to the disease.
I still don't LOVE pink but
I no longer feel like those sweet, little ole pink ribbons might as well be the Grim Reaper.
I'm learning how to push against pinkwashing while also appreciating the loving intentions of so many who "shop pink" and the sincere interest in mutually beneficial cause marketing campaigns of some companies, organizations. Now, I can see value in pink.
In fact, when I look at all the pink that has made its way into my closet as gifts from family and friends, cancer related fundraisers or outings with fellow Survivors , I see and feel TONS of LOVE, POSITIVITY & RESILIENCY that is getting me OVER & BEYOND MY PINK AVERSION
(mostly)
:
fellow Ta-Ta Warriors, Survivor Sistahs -- those still figuring out how to move from the "new normal" resulting from cancer to creating a better one and those that have earned their wings too early;
friends and family -- even those who couldn't bear to come around in my darkest hour unable to cope with my and their own mortality to my Niece Katie who permanently inked her support on her ankle with a darn pink ribbon (grrrl...there were other less painful, expensive and permanent ways of showing you care ;)!;
angels on Earth -- the amazing, caring medical experts: Dr. Alexander, Dr. Hyde, Dr. deFatta, Dr. Roux, Joy Smith, Viki "One Stick Vic" Doolittle, Dr. Hausdorff, Dr. Sullivan, Dr. Trahan, Dr. DellaCrocce and all the others who provided compassionate medical care; AND
the strangers who answered prayer requests for someone they never met.
And to deal with my lingering misgivings about pinktober, pinkwashing, I've found a way to make all that pink count beyond raising awareness and beyond filling the pockets of companies making bigger profits than a positive difference: the #MoXieChallenge to #GoBeyond Pink. I hope you'll accept and make a gift to the Breast Cancer Assistance Group of Monterey County which provides financial assistance and educational resources to women so they can focus more on fighting cancer and worry less about meeting their basic needs due to the expense of treatment.