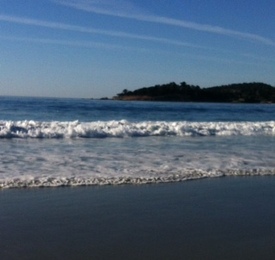 I love the promise of a New Year!
I love being intentional with closing out the current year and envisioning the year ahead. Here are four my favorite creative ways of doing so — would love to know your faves… share in the comments section below:
1. Catch & Release: Freedom Fishin'
Beautiful in its simplicity for all of us having the good fortune to be within reach of the Ocean to inspire our reflection:
Visit the beach and go near the water's edge.
"Catch" all of the year you want to release before heading into the New One and "write" it in the sand;
Step back, watch and inhale and exhale with the flow of the waves as your "stuff" is released into the Ocean.
Grateful to Survivor Sistah Keira who inspired me to give this a go when she shared how cleansing doing something similar was for her. Looking forward to feeling grit of the sand between my toes and the salty, spray of the Ocean upon my face later today during my "Catch & Release" Freedom Fishin'.
2. Burning Bridges: Lighting the Way to Letting Go
One of my most favorite ways I've experienced of ringing in the New Year was at the end 2008, a year that had been consumed with fighting cancer: tons of tests, needles, surgeries, medicine, etc. that at times seemed worse than the cancer itself. My Mother-in-Law sent me three small canvas pictures of bridges -- beautiful yet dreary in some ways as they were all gray and filled with fog. She sent them to me with a note to burn them. At first, I thought, "No way am I burning this gift." And then I realized she was sending me one of the greatest gifts of all: release of my inner baggage weighing me down, zapping my emotional energy. So...on New Year's Eve, I took a black sharpie and wrote on all three the things I wanted to release and leave behind in 2007. I set them on fire. Felt so good...so good in fact, I became a bit concerned that maybe I was lighting my inner pyromaniac —Thinking it's time to burn some bridges, again ;) And in case you don't happen to have spare bridge art around, a quick google image search is likely to turn up ones you can print and use for this activity (just do it safely ;)
3. Letter to Self: Manifesting Intentions
Although my honey thinks guests at our Annual New Year Open House feel obligated to participate, I think they really enjoy this activity. All guests, kids and adults alike, receive their own blank notecard and envelope and access to plenty of markers, crayons, pens, etc. They are encouraged to express their thoughts, wishes, goals, etc. for the New Year on their cards — via words, drawings, whatever creative way they choose. After doing so, guests seal their notes and address their envelopes. Near the end of the year, I mail them to the guests and they are provided with an opportunity to reflect upon what intentions they manifested.
4. 32 Squares: Adventures, Experiences, Achievements & More!
My dear friend Kathleen introduced this to me nearly 20 years ago when we were planning service learning activities at CSU Monterey Bay. You'll need a letter size sheet of blank paper and at least one pen (I encourage you to bring out different colors as well as markers to encourage your creativity). Fold the paper in half five times and then unfold it. The folds will create 32 squares. Think of all the adventures, experience, achievements, etc. you want to have for the year. As quickly as you can without censoring, write each of your thoughts in a separate square until the page is filled. On the corresponding square on the back side of the paper, identify the broad category you think captures the initial square. For example, on the front side, you've written create a budget in one square, save $1000 in another. On the back side, you may designate Financial Management or Money as your broad category. Do this for all your squares. Review the back side and you'll notice probably three to five themes emerging. Organize the things you've put on the front side into the themes and now you've created a Thrive List of sorts for your New Year. Perhaps the most significant adventure, experience and achievement I've manifested from my "32 Squares" was my lil' guy Aiden :)
Would love to know if you give any of these a try as well as your faves you're willing to share — feel free to post in comments below.
And for reading this far, here's a bonus: I love quotes and find much inspiration in them. This one is definitely fitting for the New Year:
"Write it on your heart
that every day is the best day
in the year."
-Ralph Waldo Emerson

Wishing you a wonderful NEW YEAR where every day
is abundant with good health, joy and prosperity!